Written by: Tzlil Biran, Eventact
September 19, 2022, | 7 min read
Social Media is a Great Place for Events
Social media can be a great place to promote events before, during, and even after it occurs — whether you have an official event page on Facebook or your business profile, your target audience is mainly on Twitter or TikTok, or you are only active on LinkedIn.
So, what can you post about a business event or a conference? Here is a list of ideas and examples to help get the event's social marketing going.
Posting on Social Media Before the Event
Before the event, posts should be extremely interesting for your relevant target audience so they can consider registering and eventually attending the event. It should attract their attention while scrolling and receiving an endless amount of information, and it is recommended to add an eye-catching image to go with it.
Here are a few ideas:
Posting About Exhibitors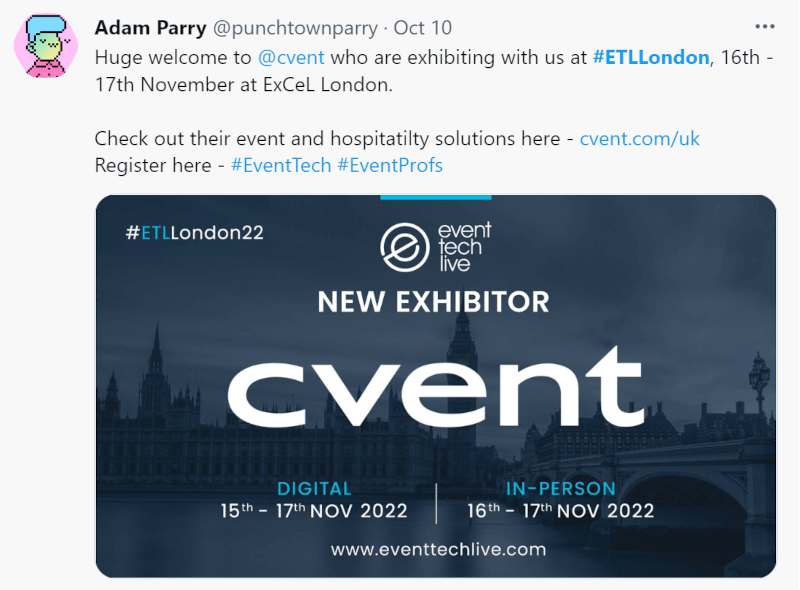 Announcing exhibitors on social media mutually benefits the exhibitor and the event marketing. The exhibitors gain brand-strengthening exposure to event attendees and other social media users. For event marketing, posting about new exhibitors demonstrates momentum and industry appreciation and increases attendee interest.
Posting About Event Speakers
The opportunity to learn from and engage with speakers is a core reason for attending conferences and professional events. So, posts about the event speakers could be one of the most rewarding marketing efforts.
Here are some ideas on how to post and reveal speakers in engaging ways:
Use a Quote

Choose an eye-catching quote from the speaker and present it in bold letters as an image in the post. Then ask – who may have said that? Invite the followers to answer. Later on, reveal the speaker who said that.

Use an Image

Instead of posting the speaker image directly, post an interesting image associated with the speaker or a partial speaker profile image with interesting partial details, and reveal their name, title, and face a day or two after.

Ask Questions

Present the speaker's lineup by asking questions that will develop curiosity among your followers: use the words: Why? Who? How? etc.

Announce Speakers Gradually

You may consider presenting the lineup in stages, so each step will be a separate post.

Interview Speakers

Asking the speakers a few questions before the event can also be a great pre-event post. For example, you can ask them about what they will speak about at the event, the new ideas/research/inventions they were exposed to in the field, statistics related, and their work and background, among others.

You may consider interviewing by writing or by shooting a video. You may use a professional company that provides interviewing and video shooting services. If you are limited with your budget, ask them to shoot themselves with their mobile; it may be more authentic and accessible.

Either way, make it short – so that the speakers won't reveal too much in advance – save some to the event itself! But, again, the goal here is just to give the audience a bite of what they will receive at the event itself.

Introduction Video

Have speakers submit a short video introducing themselves and their topics.

Another great way to post about your event is to invite the speakers to say a few words about themselves. What's their specialty, their education, where are they from, etc.? If you want it to be more amusing, you can ask them to share an interesting anecdote, a funny story related to the profession, or a funny situation they were in during their work.
Countdown Until the Big Day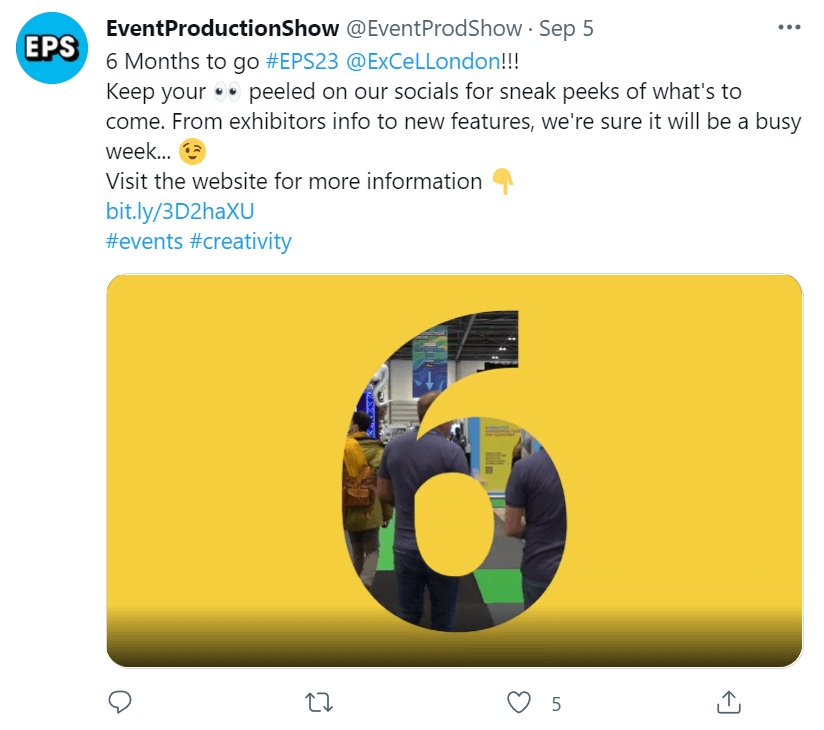 Counting back the days left before the event creates anticipation and increases the excitement of waiting for the event to start. You can share a post mentioning the days left until the event begins designed like a timer; ask a speaker to present it with an image holding a sign with the time left and update it every week or so with a new post.
If you want to be more creative and it suits your audience and event topic, you can consider combining a cat holding your countdown timer. Research on social media and cats shows that content related to cats seems to gain much more online attraction. The common explanation is that cats are related to positive emotions, even at the level of digital therapy and stress relief. It's always good to try.
Information and Fun Facts Worth Sharing
People like to share information they think will interest or benefit others. Infographics that provide a new way to look at the event's topic, as well as new ideas, the visual design of statistics, and numbers related to the event or behind the scene image, can all work well as a post to motivate sharing and spread the word about your event.
What Is Happening Behind the Scenes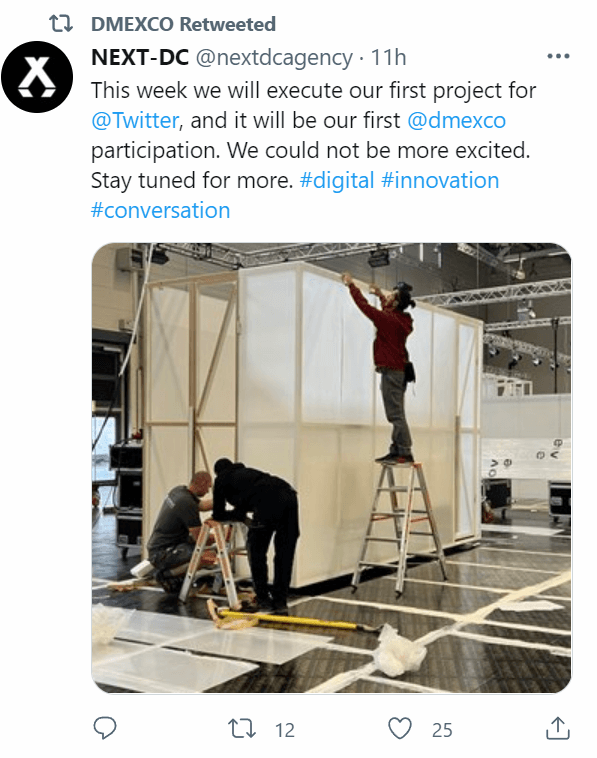 Think about your favorite singer's concert or a theater show you went to – if you had a chance to get a sneaky pic and visit behind the scenes before it started – how would it make you feel? Use this concept also in regard to your event – shoot a few pictures of the venue (from inside as well as outside), menu, stage preparation, the gathering hall or registration, and other similar ideas that transfer the feeling of preparation and curiosity about the event and how it will be.
Registration and Rate Deadlines
Post about early bird registration and rate deadlines. Share with your audience the opportunity to register for an early bird discount ticket price for a limited time frame. Don't over-post it, so it's too much, but a few days before the early bird registration ends, share a friendly reminder that the benefit will end soon, and it's the last chance to enjoy it before prices rise.
Share and Retweet Attendees' Posts
Share and Retweet posts from excited attendees as well. Attendees posting about your event can be very helpful for promoting it, and you may use them as a kind of ambassador. Search for mentions of your event on social media and reshare them on your profile as retweets, reshares, or reposts according to the relevant platform. Creating a hashtag for your event is recommended so it's easier to promote and follow mentions of it. You can read more about creating event hashtags here in our blog post.
Prepare Social Media Posts Ideas That Speakers and Participants Can Post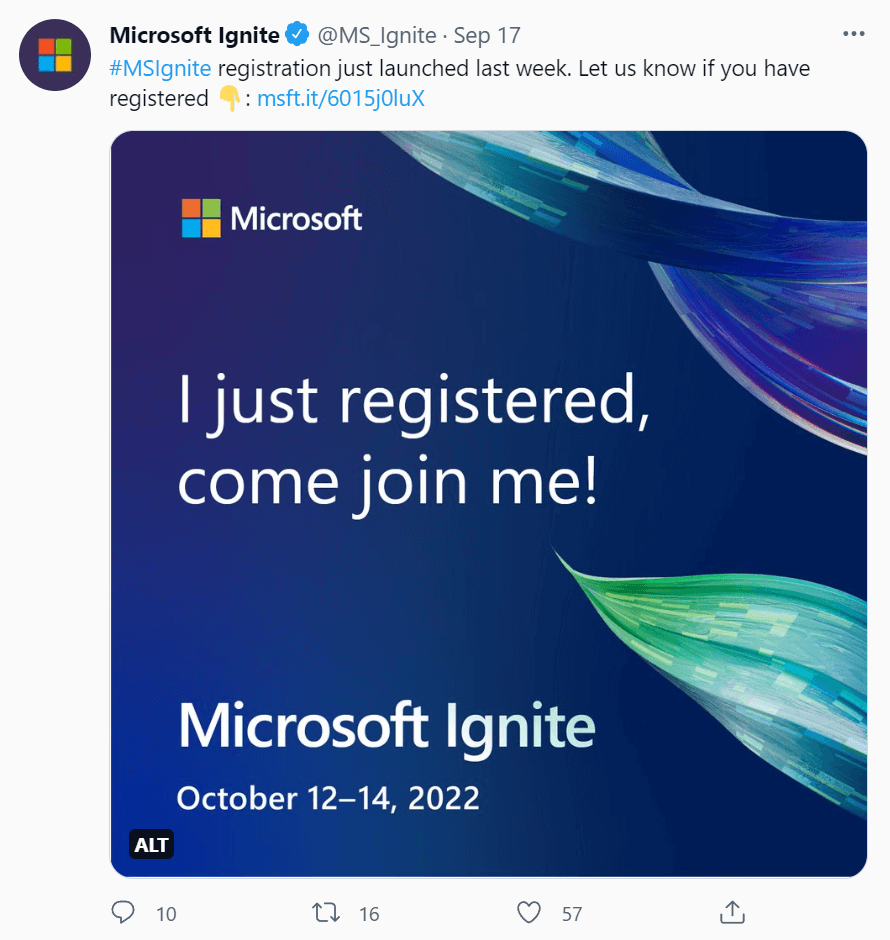 You can design ahead of the event templates with quotes like "I attended XXX 2022 event" or "so many speakers, so little time," "learn, meet, eat – XXX conference," and such and encourage your attendees to share them on their social media platforms.
Consider adding:
Basic event information: event name, place, and time
The event logo
The event hashtag.
Start Cross-Promotion
Cross-promotion is a strategy based on mutual benefits for two sides. Conferences are an excellent fit for cross-promotion with speakers and exhibitors - all sides have a mutual interest in the success and the event's reputation. Cross-promotion can increase the event exposure as well as help build event reputation in the professional comminutes.
Posting During the Event
Photo Wall During the Event
In addition to the must-have photos taken during the event, like speakers on the stage, attendees gathering, hearing keynotes, lunch, and such, take pictures of the little moments during the conference – two people hugging after they haven't seen each other for a long time and meeting at the conference, businesspeople exchanging business cards, smiling faces watching an exhibition at a booth fair.
Logo in the Background With Event Sponsors
Create a spot at the event's entrance that no one will miss with a designed background that includes your logo and all your event sponsors so that people can take a formal picture of themselves visiting. Then, add a sign encouraging them to share it on social media and share it yourself. If your budget allows you to, hire a professional photographer to take the pictures and invite the attendees to tag themselves later on your social media when the images are shared.
Share Content From Speakers
You can share live-stream videos or short parts from speakers' keynotes, highlights from their content, or simple images from their presentations; all are great resources for posts.
Announce Free Souvenirs
Share announcements about your event, different giveaways from sponsors, and the event itself on your social media channels – this will encourage your attendees to follow you on social media and increase your event exposure.
Display Social Media Posts at the Event
Display a big screen in the gathering hall of your venue in which you'll be presenting selected posts mentioning your event live.
Posting After the Event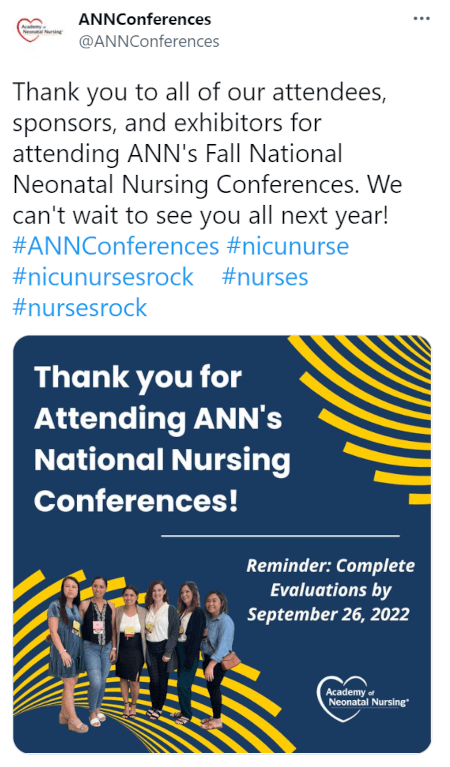 Thank Your Attendees and Speakers
Create a thank you post for all who attended your event – speakers, and attendees. Thank them for coming to the event, and invite them to follow you on social media for future updates and announcements about your next events.
Share Images of the Event
Include as many people as possible in those images and invite your followers to tag themselves and share them.
Ask for Feedback
Create a post that allows for a comfortable place for feedback – good and bad. For example, share a link to fill out a post-event survey, so you'll be able to gather all your feedback in an organized way.
Press Coverage
Share articles and press-related items that were published on your social media. Tag the journalists who covered them and speakers in case they are mentioned in the article.
Tips for Writing Tweets and Posts
Timing

Schedule your post to get maximum attention and engagement.

A study by Buffer found that the best time to post to get maximum engagement is when it's less popular to do so. Based on this data, seek to publish your posts in the early morning hours of your potential event attendees.

A study by the social media management platform Sprout Social found that:

The best time to post on Twitter is Tuesdays and Wednesdays 09:00 AM.
The best time to post on Linkedin is Tuesdays 10:00 to 12:00 AM
The best time to post on Facebook is Mondays through Fridays 03:00 AM

See Sprout Social

White Space

White space can help make your post more apparent and easier to read. So, add line breaks between the lines of your text.

Use one or two hashtags

Different studies have found that posts with one or two hashtags got likes and retweets more than those over two hashtags.

End with a call for action

Clearly tell readers what you want them to do after reading your post

Follow us for updates.
Retweet to let your college know
Register.
Visit the event website.
Check the program.